2017 Testimonials
Downtown Hyundai - March 2017
We have been a car-free family for the last 4.5 years....and every so often, when we would rent a vehicle, we would get an Elantra. Having two children it has become more necessary to have a vehicle on hand besides the 504 King Streetcar.
Downtown Hyundai was excellent, David picked me up at my home last week for a test drive of the Elantra, we discussed the options and then he let me walk out of the dealership to talk with my husband about the details. No pressure at all.
I came back the next day to purchase...and picked out a color not on the lot....so tonight we have our 2017 Elantra! Our kids were in tow andDavid was especially patient and friendly with them!
Thanks, David Shafir & Downtown Hyundai! 
Jeannie W.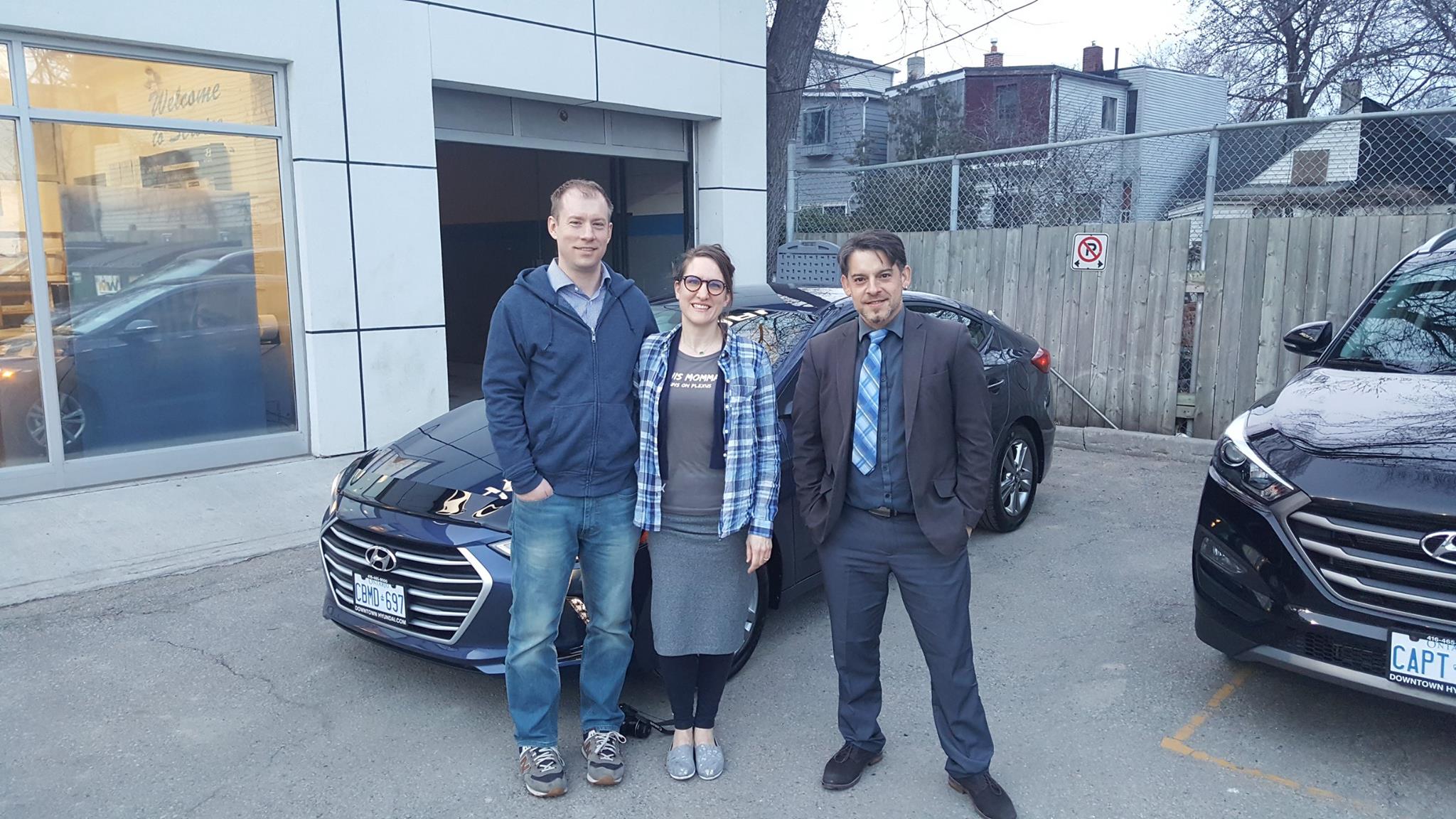 Downtown Hyundai - March 2017
My experience was great.  Ashton was really helpful and responsive to my questions and concerns.  He earned my trust and I look forward to returning in a few years to purchase my next Genesis.
Regards,
Steve
2016 Testimonials
Downtown Hyundai - May 2016
It is genuinely a pleasant surprise to receive an email from the President of the company. It extended our confidence many fold in the company from where we purchase our new Hyundai and give us a peace of mind that we are in the professional hands.
We are happy and comfortable to drive Hyundai Santa Fe Sport. A nice decision.
We would also like to mention here name of Michael Cruz the sales representative who have effectively convinced us for making our decision to buy Santa Fe Sport from Hyundai Downtown. We found him quite professional and supportive.
Thanking you and looking forward to receive the same professional support from your Business Group by all the times.
With the best regards,
Kausar
Downtown Hyundai - April 2016
I feel I am already an advocate of Hyundai, especially the Sonata line as I tell everyone I know what a great vehicle the Sonata is and most recently, my new Sonata GSL SE.
My recent experience was very pleasant at Downtown Hyundai.  I was treated like I mattered and all everyone wanted to do was to ensure that I was satisfied and happy with my latest purchase.
Everyone, from David who (up-sold me :)! suggested, and sold me the GSL SE (and intuitively chose the colour I wanted), to Jae Song in Finance who is the epitome of graciousness.  
Jae was respectful, friendly and an efficient representative of this dealership.   The manager, Sandy was accommodating and made sure I drove away a happy and satisfied customer!  I felt like I was part of "the family" indeed.
I would recommend this dealership to anyone who is looking for a pleasant experience when purchasing their next vehicle.  Confidence and knowledge in your product is alive and well at Downtown Hyundai...as is the wonderful customer service.  You have every right to be proud.
When I received an email feedback questionnaire, I immediately responded and rated my purchasing experience as 5-stars across the board ---- 100%!  I am enjoying my quiet, smooth-riding, lovely vehicle so much.... I am also enjoying the compliments my Sonata is receiving.  
Sincerely,
Josephine
Downtown Hyundai - April 2016
My daughter was thrilled with the 2013 Elantra that we purchased and surprised her with this Easter. I got a phone call from David Shafir our Salesperson as a follow up and to find out my daughters reactions.
We found David to be a very personable fellow to deal with. He was a real down to earth person that had the ability to put himself at the same level as myself and my wife. The rest of your staff at Downtown Hyundai were very courteous to us as well.
A special thanks to Jae Song for taking the time to go through all the details of the purchase with us. He left no unanswered questions and was very professional, yet quite personable.
Thanks,
Glenford
Downtown Hyundai - March 2016
Our experience at Downtown Hyundai was great. David was entirely pleasant and thorough in showing us all the options/features of the Accent-and went out of his way to make sure we got everything we needed. 
Both he and Jae were thorough and enthusiastic without being at all high-pressure. We're very happy with our new car, and I would definitely recommend Downtown Hyundai to others.
All best,
Giles
Downtown Hyundai - March 2016
I typically don't take the time to write reviews, but I had such a great experience I wanted to share. I posted a review for Hyundai Canada as well when they emailed me, so hopefully you received that as well.
Chan Song was absolutely incredible. We had visited other Hyundai dealerships before to consider purchasing my new car from, and I've been to several other Hyundai dealerships as my family purchases only Hyundai cars. 
I've never seen the service that we received from Chan. Truthfully - we hadn't intended on buying the car when we went to meet with him, but he was so great that we decided to move forward.
When coming in for my first visit with Chan, he took the time to explain everything to me in a lot of detail. That was when I had initially started considering buying a car. He made the experience very friendly and there was no pressure to buy. My trade-in car was looked at and assessed and they honored that price when 
I finally decided to buy. When I came in again with my boyfriend, we'd called ahead and Chan had the car that we wanted to see ready to go - engine on, seats heated, steering wheel heated - everything was prepared. In between those visits as well, Chan was available for emailing back-and-forth with questions I'd had about the cars and products.
Chan sent me emails to remind me what I had to do, and he took the time on his day off to respond to a change that I'd made with my pick-up date. He noticed that my birthday was the same day as my pick-up, and him and Jay sent me emails to wish me a happy birthday. 
Jay gave me balloons when I came to pick up the car as well. Every time I came to the dealership, both Chan and Jay took the time to make me feel very welcome.
Chan has a very genuine persona and makes you feel at ease buying a car with him. He is truly excited about the product, and sharing that knowledge with you. Jay as well was very impressive in walking through the different options, and in his relaxed approach. I loved their team dynamic (and yes, I know they're brothers!)
Overall, I'm very pleased with my experience buying the car with Downtown Hyundai. I will be referring my brother and father to purchase from this dealership going forward.
I'm hopeful that my Service experience with the dealership will be equally rewarding.
Thanks,
Jeannie
Downtown Hyundai strives to exceed the expectations of each & every customer. We are proud of what our customers say about us and while we prefer to get positive reviews, we accept and learn from those not so positive ones. In doing so, we are striving to constantly improve and exceed our customers; expectations. Check out our Google Reviews and write a Google Review to share your experience at our store.